Trusted Drive Thru System for Restaurants
Great drive thru technology is the difference between a drive-thru that makes money and one that causes headaches. Which one do you want?
What we Offer:
Drive-thru systems
Drive-thru equipment repair
As leading restaurant technology professionals, we'll also help you avoid the common drive thru technology mistakes that others make.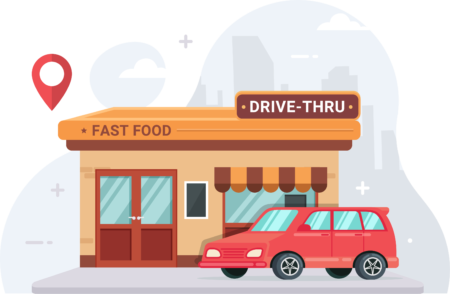 Why Choose the RSS Drive Thru System
When you buy a drive thru technology system for your restaurant from RSS, you get more than the equipment we install. You get an experienced team to support you for as long as you need.
The success of your restaurant depends on drive-thru equipment that works whenever you need it. However, equipment breaks for various reasons and never at the most convenient time. So, you want a partner who can help you avoid service interruptions and get you back up and running fast when interruptions occur.
Here's how we do that!
At the first sign of trouble, call our help desk. We'll help diagnose the problem and start the ball rolling on getting the problem resolved.
When you need in-person help, our regional field techs are ready for you. We placed our field techs strategically around the country so they are close. We will send them your way.
If you need a new headset, Do not wait for your headset to get fixed. We will ship a replacement to you with a box and return label for the broken unit. This approach significantly limits service interruptions.
We do not just sell headsets. We repair them too! Our team averages 250 headset repairs per month, and we repair a variety of headsets (HME EOS, PAR G5, HME ION, 3M XT1, PANASONIC ATTUNE II)
The Best Drive Thru Headset Systems for Your Restaurant
HME EOS Features and Benefits
Hear What You've Been Missing

Wideband technology offers twice the audio bandwidth of other digital headsets. It also expands the audio range to higher and lower voice frequencies than standard drive-through headsets. As a result, it increases the order intelligibility by 20%. Clearer, more intelligible audio speeds up service and improves order accuracy. In turn, enhances customer satisfaction and bolsters drive-through profitability.

Enjoy these Drive Thru Technology Benefits

Reduce inbound noise from engines and traffic by up to 44%.
Reduce outbound kitchen noise reduction by up to 88%.
Less noise means more accurate orders—and happier customers.
Sequence up to 12 customer greetings to promote specials and improve check averages
Schedule automatic reminders for employees
Broadcasts alert to inform staff members of critical developments affecting food safety
Answer the phone with the optional telephone interface
Send freezer temperature alerts with the optional temperature alert interface
PAR Headset Features and Benefits
Stay Powered Up All Day Long

You have enough on your plate without having to worry about misplaced or lost batteries. With the G5 system, there is no need to remove batteries when you need to charge.

PAR Drive Thru Basestation g5

Smarter Sound: Advanced Noise Reduction delivers superior sound quality for the order taker at the menu post. Acoustic Echo Cancellation reduces echoes for clearer sound and easier comprehension.

Built-In Greeter: Record up to 16 messages, each up to 10 seconds long. Use greeter messages to promote key items. Keep your team on task with custom alerts and reminder messages.

Easily upgrade from single lane to dual lane on-site!
Watch the video to learn more about HME EOS Drive Thru Headset Solutions
Provide Graphical Representation

Drive thru technology timer systems offer a live graphical representation of what's happening in your drive-thru. This immediate feedback allows you to monitor drive-thru management. It also enables you to receive statistical reports to better understand your operations' trends and set realistic goals for your organization. Our drive-thru timer systems are completely customizable and can be tailored to meet the needs of your store's operations.

Empower Your Managers

Managers will feel empowered to check employee performance using constant, real-time reporting. They will also have customizable reports for performance monitoring. As a result, they can measure service goals by the day or part of the day.

Easily

customize your system to meet your business's specific needs and goals.

By identifying trends you can design ways to motivate employees and improve customer satisfaction

.

Enjoy these Drive Thru Technology Benefits

Improve speed of service and increase customer satisfaction
Count the number of cars in your drive-thru
Identify bottlenecks and roadblocks
Track drive-thru performance by day or multiple times of day
Easily set goals by day or time of day
Generate downloadable reports at multiple locations
Measure staff performance
Deter theft by using itemized statistics