Digital Menu Boards and Restaurant Signage
Rugged Design to resist extreme weather and vandalism

Remote Programming and Flexible Layouts

Use Your Own Artwork or Let us Design It For You
A unique eye-catching signage for your restaurant!
Looking for a proven way to enhance customer engagement, increase revenues and maintain brand consistency? Restaurants nationwide rely on our restaurant digital signage and menu board solutions to easily create and modify menus and promote specific items, specials, or events.

Indoor Digital Menu Boards for Quick Service Restaurants
Our restaurant digital signage solutions are ideal for a number of restaurant applications, including digital menu boards, in-store promotion boards, or notification systems for customers that use the drive thru or takeout.
Why Use Digital Menu Boards
Benefits of Digital Menu Boards
Easily create, modify and update menus
Highlight new products, promotions, specials, and events
Ensure brand and pricing compliance in multi-unit environments
Remotely manage and update menus from anywhere
Day-part scheduling allows you to show different menus at different times of the day/days of the week
Enhance the customer experience by providing entertainment or information to reduce perceived wait times
Sell digital signage advertising space to vendor partners to bring in extra revenue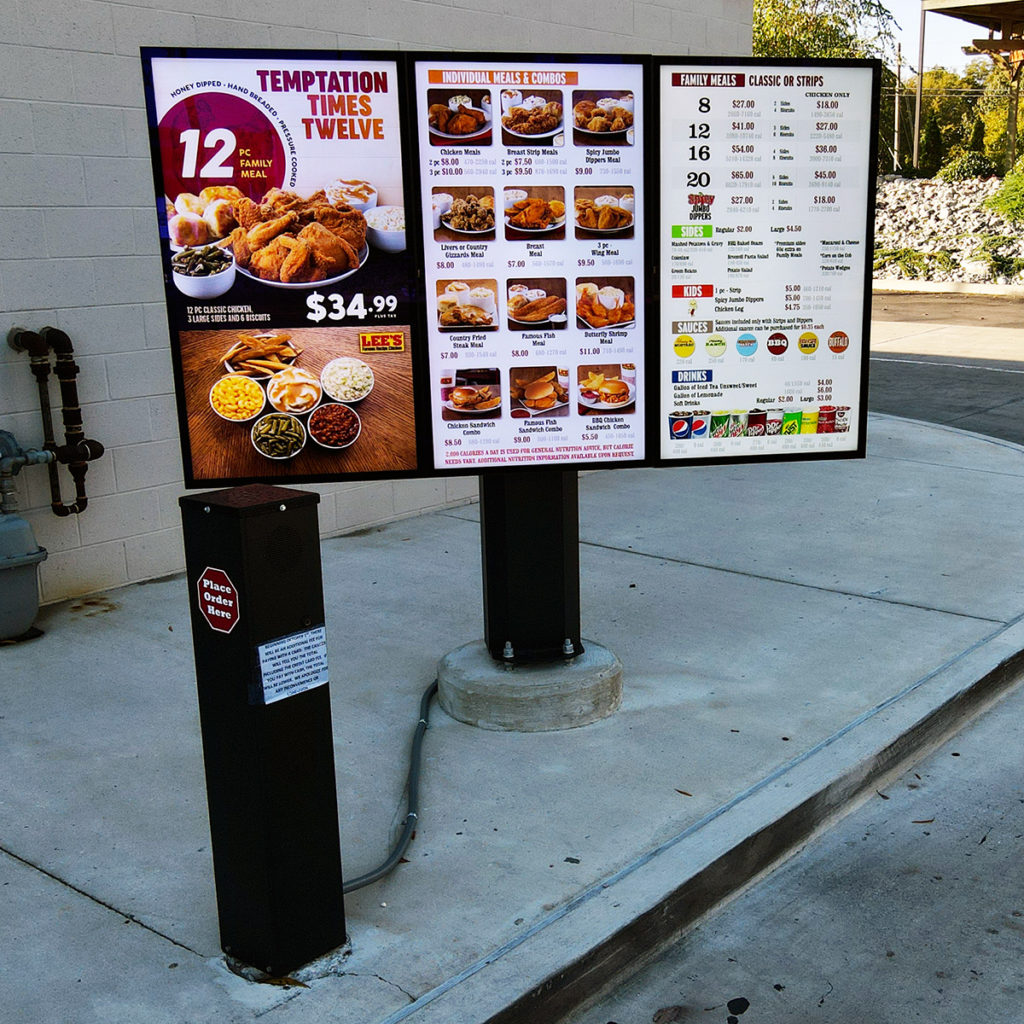 One, Two, and Three Panel Options
Frequently Asked Questions
What are the benefits of digital menu boards in restaurants?
Digital menu boards offer a beautiful display for your menu items, limited-time-offers, and product images and videos. At the same time they make it easy to change prices and other content without the cost and delay of printing new menus.
What is required to use digital menu boards at a restaurant?
You'll need a digital display designed for professional use. They should be able to stay turned on for several hours a day for years without the risk of losing image quality. You'll also need a way to upload your images, playlists, and schedules to your displays. This is usually accomplished with an off-premise content management system that communicates with your displays through the internet, which means you'll need internet connectivity for your displays. You'll also want strong display mounts for attaching your displays to the wall or floor.
What are the best practices for designing digital menus for restaurants?
There are a few key things to consider when designing digital menus.
Take advantage of the high-resolution screens and produce professional photography and videos. Don't skimp here.
Don't be too wordy in your menu item descriptions. Guests will get lost in all the text.
Use fonts that are easy to read. Don't get too cute with fancy fonts. Your guest won't thank you when they are struggling to read your menu.
Use ample line and character spacing. This also helps the guest read and navigate your menu.
Highlight your top sellers with larger text and images and don't feel like you need to have an image for every item on your menu.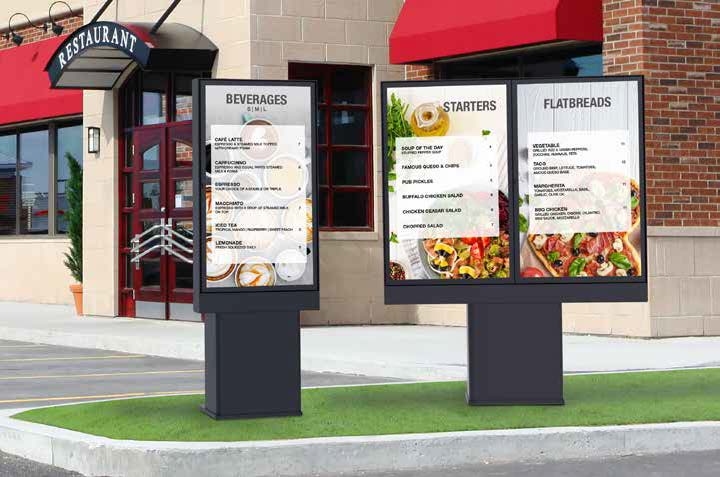 How It Works - Getting Started with RSS
Your business needs digital menu boards and signage. Changing static menu boards is a hassle and they lack the sharpness that your customers have come to expect. So you may ask, what will it take to get digital signage in your restaurant?
It's simple
We will help build the best solution for your restaurant and answer all your questions about the displays and the software we use to run them.
Get a Custom Solution Quote
The menu boards and software solutions are standardized. Your needs are unique to you and your restaurant. So we will design a solution that fits you.
Place Your Order & Schedule Your Install
Once you are happy with the solution and ready to make the investment in your business let your account rep know.