A POS System for Busy Table Service Restaurants
Give your guests the service they deserve while optimizing your restaurant's operations
Your Restaurant, Your POS

Focus POS Systems
Sales
Quickly enter orders and pay checks with the intuitive touch screen.
Take orders tableside with mobile POS.
Securely process credit cards.
Table Service
Easily manage seating and hold and reserve tables.
Keep track of tables with graphical floor plans, meal stage notifications and table status reports.
Increase table turnover by processing several tables at once.
Labor Management
Control labor costs and meet federal guidelines with real-time labor management.
Streamline scheduling with reusable templates.
Use forecasted and historical sales to schedule for special events, seasons, or peak times.
Gift and Loyalty
Offer customized reloadable gift cards.
Attract repeat customers with powerful loyalty programs.
Reporting – Cloud-Hybrid Solution
Easily generate a variety of detailed business driver reports.
Receive reports by email or text message at specified time or intervals.
Run reports from the cloud at the Enterprise and Store level.

PAR Brink POS
All-in-One Solution
Flexibly manage your restaurant or restaurant chain.
Build custom integrations with the Open API
Easily train your staff with this intuitive and user friendly solution.
Designed for the Cloud
Manage store analytics in real-time with data available in one place.
Increase network security with a identity and access management, and heightened network encryption.
Never worry about your data with unlimited storage.
Customized Menus
Customize your menu to match your restaurant and maintain consistency throughout all applications.
Create custom built layouts, borders and panels.
Implement menu modifiers quickly and promptly Menu updates can occur anywhere, across all locations.
Configurable Reports
View data in real-time, as the browser refreshes.
Personalize the way you view your data.
Take a deeper look into one specific location, or multiple stores.
Pull and filter the analytics you need in the moment.
Identify consumer buying behaviors, peak times, and staffing requirements.
We work with multiple payment processors in order to provide you with the options you need to run your business.
POS Hardware and Tablets
We provide a versatile, all-in-one Point of Sale hardware solution. It looks great, has flexible configurations, and is rugged enough for the toughest restaurant environment.
The Acrobat All-In-One is spill and dust proof. It comes standard with the Qualcomm 450, up to 1.8 Ghz CPU, and a myriad of IO ports, which makes it powerful enough to handle any POS Software Package you select.
The Quest Tablet is EMV Level 3 Certified and tested and proven to work with each card brand. The Intel™ Atom™ Cherry Trail Processor offers ultra-low power consumption and extended battery life. Compatible with both Android and Windows operating systems, the Quest III rugged POS tablet comes standard with 64 GB of storage and 4 GB of memory providing all the power and storage your POS needs.
Qualcomm 450 up to 1.8 Ghz CPU
Foldable stand for ergonomic small footprint
Standard wireless
14" widescreen LED LCD
Fanless and ventless
2 Serial Ports
Android Pie 9.0
Spill and dust resistant
True Flat Resistive Touch
Wall mountable (VESA 75×75)
Low power consumption
SOTI Mobility Management
Intel™ Atom™ Cherry Trail Processor
7-inch or 10-inch Projected Capacitive Touchscreen
Enhanced wireless connectivity
Rugged IP54 rated design and 4′ drop specification
Windows 10 IoT and Pro Support
Standard: MSR and Bluetooth
Optional: EMV, fingerprint reader, 3G, NFC, 8 MP camera, Government ID Verification
Optional: Available with the Quest 10″ tablet only: field upgradeable, integrated Augusta Reader
Kitchen Display System (KDS)
Working in the fast-paced environment of restaurants can be chaotic. A kitchen display system can improve accuracy, productivity, and customer satisfaction. With native POS features or the robust QSR Automations suite, you will be able to manage reservations, table seating, waitlists, and on-line ordering. You'll also be able to manage your kitchen with Kitchen Video, programmable cook times, and real-time analytics.
Our KDS Integrates with multiple POS systems, including Focus and Brink. Orders placed at the POS are displayed on monitors in the kitchen. The kitchen staff can then scroll through orders using a bump bar and a controller. The system sorts orders by station or location and prioritize them based on the selected criteria, like timestamps or destination.
The xCeed kitchen display system controller is powered by the Microsoft Windows CE operating system and includes a powerful processor, industrialized construction, extensive interfaces, and easy-to-program flash memory. The xCeed is powerful enough to support browser content, rotated video, graphics, and photos. You'll also be able to use advanced diagnostic tools with ControlPoint, a software tool that manages QSR hardware.
Route tickets by item or order and send orders by destination
Call attention to item and order details and status with colors, fonts, and other formatting
Send orders on-the-fly, one-behind, or at subtotal
Dynamically display menu cards for meal prep instructions
Improve ticket times, volumes, accuracy and food quality
Eliminate costly printers or the need to physically call out orders
Redundant system design reduces down time
Improve customer satisfaction
Increase restaurant management and productivity
This graphical restaurant kitchen automation software allows you to tailor routing and display attributes for every item and order. Easily call attention to order details and status with customizable colors, fonts, and font formatting. This kitchen display system software makes kitchen management a breeze. Staff will easily monitor order status and respond accordingly. Management can also track production and speed data to identify problem areas and implement solutions.
Restaurant Management Platform
With native POS features or the robust QSR Automations suite, you will be able to manage reservations, table seating, waitlists, and on-line ordering. You'll also be able to manage your kitchen with Kitchen Video, programmable cook times, and real-time analytics. Integrates with multiple POS systems, including Focus and Brink.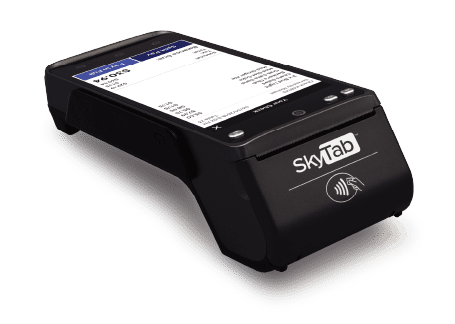 Secure Contactless Payments
If you accept credit cards at your store, securing your customer's personal information is a top priority! With RSS, Focus POS and Shift4, your customer's credit card transactions are safe and secure!
SkyTab® is a powerful mobile solution…a game-changer for your restaurant. This complete order- and pay-at-the-table solution combines state-of-the-art hardware with simple and intuitive software to deliver an exceptional experience for businesses and their guests.
A Point to Point Encryption payment solution that is PCI-validated
A state of the art POS solution
The best service in the POS industry
Free POS licenses
Free EMV Card Readers
Peace of mind that your customer's data is secure
Increased Operational Efficiency
Improved Customer Experience